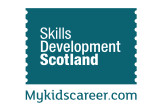 Research shows that the most influential figures in children's career choices are parents and carers, and to achieve the best outcomes, it's important to start conversations early. As a parent or carer, you play an important part in helping them to get onto the path to finding a job that offers them the future they want. But it can be difficult to know where to begin.
Skills Development Scotland have launched this brand new website, My Kids Career, providing all the information parents and carers need to support and help their children.
There is more than one pathway to success. The website gives factual information and useful statistics on topics relating to further education, apprenticeships or going straight into the world of work.
Take a look at the 'My Kids Careers' website here.